Blocky - Paint your own artful text pictures
── ── ── ── ── ── ██ ██ ██ ██ ██ ── ██ ██ ── ──
── ── ── ── ██ ██ ▒▒ ░░ ░░ ░░ ░░ ██ ▒▒ ░░ ██ ──
── ── ── ██ ▒▒ ░░ ░░ ██ ░░ ██ ░░ ░░ ██ ░░ ░░ ██
── ── ██ ▒▒ ░░ ░░ ░░ ██ ░░ ██ ░░ ░░ ░░ ▒▒ ░░ ██
── ── ██ ░░ ░░ ░░ ░░ ██ ░░ ██ ░░ ░░ ░░ ▒▒ ▒▒ ██
── ██ ░░ ░░ ░░ ▒▒ ▒▒ ░░ ░░ ░░ ▒▒ ▒▒ ░░ ░░ ▒▒ ██
██ ▒▒ ░░ ░░ ░░ ░░ ░░ ░░ ██ ░░ ░░ ░░ ░░ ░░ ░░ ██
██ ░░ ░░ ▒▒ ░░ ░░ ░░ ░░ ██ ░░ ░░ ░░ ░░ ░░ ▒▒ ██
██ ░░ ░░ ▒▒ ░░ ░░ ░░ ░░ ░░ ░░ ░░ ░░ ░░ ░░ ██ ──
── ██ ██ ██ ░░ ░░ ░░ ░░ ░░ ░░ ░░ ░░ ░░ ▒▒ ██ ──
██ ▒▒ ▒▒ ▒▒ ██ ░░ ░░ ░░ ░░ ░░ ░░ ░░ ░░ ▒▒ ██ ──
██ ▒▒ ▒▒ ▒▒ ▒▒ ██ ░░ ░░ ░░ ░░ ░░ ░░ ▒▒ ██ ── ──
██ ▒▒ ▒▒ ▒▒ ▒▒ ██ ░░ ░░ ░░ ░░ ░░ ▒▒ ██ ██ ── ──
── ██ ▒▒ ▒▒ ▒▒ ▒▒ ██ ▒▒ ▒▒ ▒▒ ██ ██ ▒▒ ▒▒ ██ ──
── ── ██ ▒▒ ▒▒ ██ ██ ██ ██ ██ ▒▒ ▒▒ ▒▒ ▒▒ ▒▒ ██
── ── ── ██ ██ ██ ── ── ── ██ ██ ██ ██ ██ ██ ──

── ── ── ── ── ██ ██ ██ ██ ██ ██ ── ── ── ── ──
── ── ── ██ ██ ██ ▓▓ ░░ ░░ ▓▓ ██ ██ ██ ── ── ──
── ── ██ ██ ▓▓ ▓▓ ▓▓ ░░ ░░ ▓▓ ▓▓ ▓▓ ██ ██ ── ──
── ██ ██ ░░ ▓▓ ▓▓ ░░ ░░ ░░ ░░ ▓▓ ▓▓ ░░ ██ ██ ──
── ██ ▓▓ ░░ ░░ ░░ ░░ ░░ ░░ ░░ ░░ ░░ ░░ ▓▓ ██ ──
██ ██ ▓▓ ▓▓ ░░ ░░ ▓▓ ▓▓ ▓▓ ▓▓ ░░ ░░ ▓▓ ▓▓ ██ ██
██ ▓▓ ▓▓ ▓▓ ░░ ▓▓ ▓▓ ▓▓ ▓▓ ▓▓ ▓▓ ░░ ▓▓ ▓▓ ▓▓ ██
██ ▓▓ ▓▓ ▓▓ ░░ ▓▓ ▓▓ ▓▓ ▓▓ ▓▓ ▓▓ ░░ ▓▓ ▓▓ ▓▓ ██
██ ▓▓ ▓▓ ░░ ░░ ▓▓ ▓▓ ▓▓ ▓▓ ▓▓ ▓▓ ░░ ░░ ▓▓ ▓▓ ██
██ ░░ ░░ ░░ ░░ ░░ ▓▓ ▓▓ ▓▓ ▓▓ ░░ ░░ ░░ ░░ ░░ ██
██ ░░ ░░ ██ ██ ██ ██ ██ ██ ██ ██ ██ ██ ░░ ░░ ██
██ ██ ██ ██ ░░ ░░ ██ ░░ ░░ ██ ░░ ░░ ██ ██ ██ ██
── ██ ██ ░░ ░░ ░░ ██ ░░ ░░ ██ ░░ ░░ ░░ ██ ██ ──
── ── ██ ░░ ░░ ░░ ░░ ░░ ░░ ░░ ░░ ░░ ░░ ██ ── ──
── ── ██ ██ ░░ ░░ ░░ ░░ ░░ ░░ ░░ ░░ ██ ██ ── ──
── ── ── ██ ██ ██ ██ ██ ██ ██ ██ ██ ██ ── ── ──

The most creative tool for who those good at painting and drawing! This blocky tool can make simple web-friendly text arts and molds for Smiley arts. You may ask "What's web-friendly?" It means when it's width is set to maximum, it still fits into non-mobile version of Facebook. So it's not dependant on monospaced font.
How to paint text art?
"It's simple. Firstly, choose the "background" you want to display; Second, choosing several "colors" patterns and then pressing on blocks; Next, keep pressing on the canvas to fill the colors you've chosen to finish your painting. Hint: You can chose several "colors" at the same time. But based on our experience, chose only one "color" will help you to paint more clear for the first time. Please have a try."
You can see under the canvas there is a text field which display what you've painted. So you can easily copy and paste your work as you wish.
"More skills: You need to choose "background" at the first, because you can't change in when you start painting. If you aren't satisfied with what you've painted, just press "flush" button, it will refresh the page and clear all the canvas then you can start again. "
AND PLEASE! We want to collect more excellent works to improve our site. So please paste your painting in the comments area at the bottom of this page. To show your creativity to global fans of text arts. Thank for your support!
Sister tool, blocky text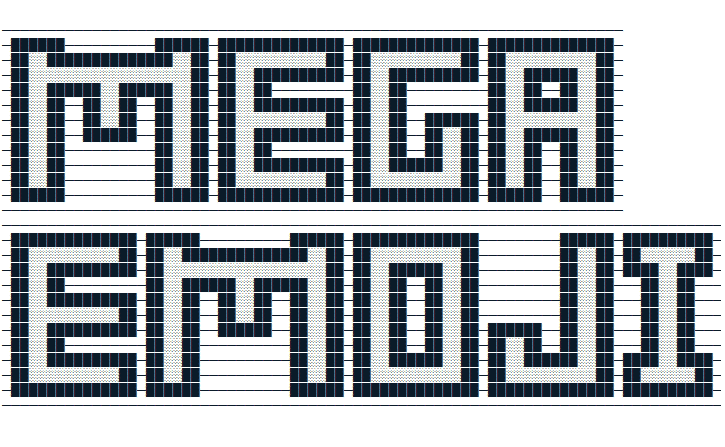 Blocky text (make huge text with symbols)
Blocky Text is a kind tool under Enlarge Text tool, which make text bigger and cool. Paint a huge text with text, it's hard to burn your mind, but we made a tool for you. All the Blocked text has a square background and boundary.
──
──
──
──
──
──
──
──
──
──
──
──
──
──
──
──
──
──
──
──
──
──
──
──
──
──
──
──
──
──
──
──
──
──
──
──
──
──
──
──
──
──
──
──
──
──
──
──
──
──
──
──
──
──
──
──
──
──
──
──
──
──
──
──
──
──
──
──
──
──
──
──
──
──
──
──
──
──
──
──
──
──
──
──
──
──
──
──
──
──
──
──
──
──
──
──
──
──
──
──
──
──
──
──
──
──
──
──
──
──
──
──
──
──
──
──
──
──
──
──
──
──
──
──
──
──
──
──
──
──
──
──
──
──
──
──
──
──
──
──
──
──
──
──
──
──
──
──
──
──
──
──
──
──
──
──
──
──
──
──
──
──
──
──
──
──
──
──
──
──
──
──
──
──
──
──
──
──
──
──
──
──
──
──
──
──
──
──
──
──
──
──
──
──
──
──
──
──
──
──
──
──
──
──
──
──
──
──
──
──
──
──
──
──
──
──
──
──
──
──
──
──
──
──
──
──
──
──
──
──
──
──
──
──
──
──
──
──
──
──
──
──
──
──
──
──
──
──
──
──
──
──
──
──
──
──
──
──
──
──
──
──
──
──
──
──
──
──
──
──
──
──
──
──
──
──
──
──
──
──
──
──
──
──
──
──
──
──
──
──
──
──
──
──
──
──
──
──
──
──
──
──
──
──
──
──
──
──
──
──
──
──
──
──
──
──
──
──
──
──
──
──
──
──
──
──
──
──
──
──
──
──
──
──
──
──
──
──
──
──
──
──
──
──
──
──
──
──
──
──
──
──
──
──
──
──
──
──
──
──
──
──
──
──
──
──
──
──
──
──
──
──
──
──
──
──
──
──
──
──
──
──
──
──
──
──
──
──
──
──
──
──
──
──
──
──
──
──
──
──
──
──
──
──
──
──
──
──
──
──
──
──
──
──
──
──
──
──
──
──
──
──
──
──
──
──
──
──
──
──
──
──
──
──
──
──
──
──
──
──
──
──
──
──
──
──
──
──
──
──
──
──
──
──
──
──
──
──
──
──
──
──
──
──
──
──
──
──
──
──
──
──
──
──
──
──
──
──
──
──
──
──
──
──
──
──
──
──
──
──
──
──
──
──
──
──
──
──
──
──
──
──
──
──
──
──
──
──
──
──
──
──
──
──
──
──
──
──
──
──
──
──
──
──
──
──
──
──
──
──
──
──
──
──
──
──
──
──
──
──
──
──
──
──
──
──
──
──
──
──
──
──
──
──
──
──
──
──
──
──
──
──
──
──
──
──
──
──
──
──
──
──
──
──
──
──
──
──
──
──
──
──
──
──
──
──
──
──
──
──
──
──
──
──
Background
▒▒
░░
██
▄▄
▀▀
▌▌
▐▐
──
══
║║
Color
▒▒
░░
██
▄▄
▀▀
▌▌
▐▐
──
▐▌
▌▐
▀▄
▄▀
▐█
█▌
══
║║
╔╔
╗╗
╚╚
╝╝
╠╠
╬╬
╣╣
╦╦
╩╩
Hint:
1. You can make a mold for Emoticion icon art for Facebook comments, but if you want to put the smiley art in chat, please make sure to use max 40 blocks (5*8, 6*6) as your canvas.
2. If you want to post it to Twitter and kind of social network, please control to use around 60 blocks, and choose the "No empty spaces".
3. Maximum size we supported: 18*33

── ── ── ── ── ██ ── ── ── ── ── ██ ── ── ── ── ──
── ── ── ── ── ██ ── ── ── ── ── ██ ── ── ── ── ──
── ── ── ── ── ██ ██ ▓▓ ▓▓ ▓▓ ██ ██ ── ── ── ── ──
── ── ── ── ── ██ ██ ▓▓ ▓▓ ▓▓ ██ ██ ── ── ── ── ──
── ── ── ── ── ██ ▓▓ ▓▓ ▓▓ ▓▓ ▓▓ ██ ── ── ── ── ──
── ── ── ── ── ██ ██ ██ ▓▓ ██ ██ ██ ── ── ── ── ──
── ── ── ── ── ██ ▓▓ ▓▓ ▓▓ ▓▓ ▓▓ ██ ── ── ── ── ──
── ── ── ── ── ██ ▒▒ ▒▒ ▓▓ ▒▒ ▒▒ ██ ── ── ── ── ──
── ── ── ▓▓ ▓▓ ██ ░░ ░░ ▒▒ ░░ ░░ ██ ▓▓ ▓▓ ── ── ──
── ── ▓▓ ██ ██ ██ ██ ░░ ░░ ░░ ██ ██ ██ ██ ▓▓ ── ──
── ▓▓ ██ ██ ▒▒ ▒▒ ██ ██ ██ ██ ██ ▒▒ ▒▒ ██ ██ ▓▓ ──
▓▓ ██ ██ ▒▒ ░░ ░░ ▒▒ ██ ██ ██ ▒▒ ░░ ░░ ▒▒ ██ ██ ▓▓
▓▓ ██ ▒▒ ░░ ░░ ░░ ░░ ▒▒ ▒▒ ▒▒ ░░ ░░ ░░ ░░ ▒▒ ██ ▓▓
▓▓ ██ ░░ ░░ ░░ ░░ ░░ ██ ░░ ██ ░░ ░░ ░░ ░░ ░░ ██ ▓▓
▓▓ ██ ░░ ░░ ▒▒ ░░ ██ ██ ██ ██ ██ ░░ ▒▒ ░░ ░░ ██ ▓▓
▓▓ ██ ░░ ▒▒ ██ ▒▒ ░░ ░░ ██ ░░ ░░ ▒▒ ██ ▒▒ ░░ ██ ▓▓
▓▓ ██ ░░ ▒▒ ██ ▒▒ ░░ ░░ ░░ ░░ ░░ ▒▒ ██ ▒▒ ░░ ██ ▓▓
▓▓ ██ ░░ ▒▒ ██ ▒▒ ░░ ░░ ░░ ░░ ░░ ▒▒ ██ ▒▒ ░░ ██ ▓▓
▓▓ ██ ▓▓ ▓▓ ██ ▐▌ ▐▌ ▐▌ ▐▌ ▐▌ ▐▌ ▐▌ ██ ▓▓ ▓▓ ██ ▓▓
▓▓ ██ ▓▓ ▓▓ ██ ▐▌ ▐▌ ▐▌ ▐▌ ▐▌ ▐▌ ▐▌ ██ ▓▓ ▓▓ ██ ▓▓
▓▓ ██ ▓▓ ▓▓ ██ ██ ██ ██ ██ ██ ██ ██ ██ ▓▓ ▓▓ ██ ▓▓
▓▓ ██ ▓▓ ▓▓ ██ ▓▓ ▓▓ ▓▓ ▓▓ ▓▓ ▓▓ ▓▓ ██ ▓▓ ▓▓ ██ ▓▓
▓▓ ██ ▓▓ ▓▓ ██ ░░ ░░ ▓▓ ▓▓ ▓▓ ░░ ░░ ██ ▓▓ ▓▓ ██ ▓▓
▓▓ ██ ▓▓ ▓▓ ██ ░░ ░░ ▒▒ ██ ▒▒ ░░ ░░ ██ ▓▓ ▓▓ ██ ▓▓
▓▓ ██ ██ ██ ██ ░░ ░░ ▒▒ ██ ▒▒ ░░ ░░ ██ ██ ██ ██ ▓▓
▓▓ ██ ██ ██ ██ ░░ ░░ ▒▒ ██ ▒▒ ░░ ░░ ██ ██ ██ ██ ▓▓
▓▓ ██ ██ ██ ██ ██ ░░ ▒▒ ██ ▒▒ ░░ ██ ██ ██ ██ ██ ▓▓
▓▓ ██ ██ ██ ██ ██ ▓▓ ▒▒ ██ ▒▒ ▓▓ ██ ██ ██ ██ ██ ▓▓
▓▓ ██ ── ██ ██ ██ ▓▓ ██ ██ ██ ▓▓ ██ ██ ██ ── ██ ▓▓
▓▓ ── ── ── ██ ── ▓▓ ██ ██ ██ ▓▓ ── ██ ── ── ── ▓▓
── ── ── ── ── ── ▓▓ ██ ░░ ██ ▓▓ ── ── ── ── ── ──
── ── ── ── ▓▓ ▓▓ ▓▓ ██ ░░ ██ ▓▓ ▓▓ ▓▓ ── ── ── ──
── ── ── ██ ██ ██ ██ ██ ░░ ██ ██ ██ ██ ██ ── ── ──

────────────────────██████──────────
──────────────────██▓▓▓▓▓▓██────────
────────────────██▓▓▓▓▒▒▒▒██────────
────────────────██▓▓▒▒▒▒▒▒██────────
──────────────██▓▓▓▓▒▒▒▒██──────────
──────────────██▓▓▒▒▒▒▒▒██──────────
────────────██▓▓▓▓▒▒▒▒▒▒██──────────
────────────████▒▒████▒▒██──────────
────────────██▓▓▒▒▒▒▒▒▒▒██──────────
──────────██────▒▒────▒▒██──────────
──────────████──▒▒██──▒▒██──────────
──────────██────▒▒────▒▒██──────────
──────────██▒▒▒▒▒▒▒▒▒▒▒▒██──────────
──────────████████████▒▒▒▒██────────
────────██▓▓▒▒▒▒▒▒▒▒▒▒▒▒▒▒▒▒██──────
──────██▓▓▓▓▒▒▒▒▒▒▒▒▒▒▒▒▒▒▓▓▒▒██────
────██▓▓▓▓▒▒▒▒▒▒▒▒▒▒▒▒▒▒▒▒▓▓▒▒▒▒██──
──██▓▓▓▓▓▓▒▒▒▒▒▒▒▒▒▒▒▒▒▒▒▒▒▒▓▓▒▒▒▒██
██▓▓▒▒▓▓▒▒▒▒▒▒▒▒▒▒▒▒▒▒▒▒▒▒▒▒▓▓▒▒▒▒██
██▓▓▒▒▓▓▒▒▒▒▒▒▓▓▓▓▒▒▒▒▒▒▒▒▒▒▓▓▓▓▒▒██
██▓▓▓▓▓▓▒▒▒▒▒▒▒▒▒▒▒▒▒▒▒▒▒▒▒▒▒▒▓▓▓▓██
──████▐▌▓▓▒▒▒▒▒▒▒▒▒▒▒▒▒▒▒▒▐▌▐▌████──
────██▐▌▐▌▌▌▌▌▌▌▌▌▐▌▐▌▐▌▐▌▌▌▐▌██────
────██▌▌▐▌▐▌▌▌▐▌▌▌▌▌▐▌▌▌▌▌▌▌▌▌██────
──────██▌▌▐▌▐▌▐▌▐▌▐▌▐▌▐▌▌▌▌▌██──────
──────██▐▌▐▌▐▌████████▐▌▌▌▌▌██──────
────────██▒▒██────────██▒▒██────────
────────██████────────██████────────

── ── ██ ██ ── ── ── ── ── ── ── ██ ██ ── ──
── ██ ░░ ░░ ██ ██ ██ ██ ██ ▓▓ ▓▓ ░░ ░░ ██ ──
── ██ ░░ ░░ ░░ ░░ ░░ ░░ ░░ ▓▓ ▓▓ ▓▓ ▓▓ ██ ──
── ── ██ ░░ ░░ ░░ ░░ ░░ ░░ ░░ ░░ ▓▓ ▓▓ ── ──
── ██ ░░ ░░ ░░ ░░ ░░ ░░ ░░ ░░ ░░ ░░ ░░ ██ ──
── ██ ░░ ░░ ░░ ░░ ░░ ░░ ░░ ░░ ░░ ░░ ░░ ██ ──
██ ██ ░░ ░░ ██ ░░ ░░ ░░ ░░ ░░ ██ ░░ ░░ ██ ██
── ██ ░░ ░░ ██ ░░ ░░ ░░ ░░ ░░ ██ ░░ ░░ ██ ──
██ ██ ░░ ░░ ░░ ░░ ░░ ▌▌ ░░ ░░ ░░ ░░ ░░ ██ ██
── ── ██ ░░ ░░ ░░ ░░ ░░ ░░ ░░ ░░ ░░ ██ ── ──
── ██ ░░ ██ ░░ ░░ ░░ ░░ ░░ ░░ ░░ ██ ░░ ██ ──
── ── ██ ██ ██ ██ ██ ██ ██ ██ ██ ██ ██ ── ──
── ██ ▒▒ ▒▒ ▓▓ ▓▓ ▒▒ ▒▒ ▒▒ ▓▓ ▓▓ ▒▒ ▒▒ ██ ──
██ ▒▒ ▒▒ ▒▒ ▓▓ ▓▓ ▓▓ ▓▓ ▓▓ ▓▓ ▓▓ ▒▒ ▒▒ ▒▒ ██
██ ░░ ░░ ██ ▓▓ ▓▓ ▓▓ ▓▓ ▓▓ ▓▓ ▓▓ ██ ░░ ░░ ██
██ ░░ ░░ ██ ▓▓ ▓▓ ▓▓ ▓▓ ▓▓ ▓▓ ▓▓ ██ ░░ ░░ ██
── ██ ██ ██ ▓▓ ▓▓ ▓▓ ▓▓ ▓▓ ▓▓ ▓▓ ██ ██ ██ ──
── ── ── ██ ▓▓ ▓▓ ▓▓ ▓▓ ▓▓ ▓▓ ▓▓ ██ ── ── ──
── ── ── ██ ██ ██ ██ ██ ██ ██ ██ ██ ── ── ──
── ── ── ██ ░░ ░░ ░░ ██ ░░ ░░ ░░ ██ ── ── ──
── ── ── ── ██ ██ ██ ██ ██ ██ ██ ── ── ── ──

── ── ── ── ── ── ── ── ── ── ── ── ── ── ── ── ── ──
── ── ── ── ── ▄▄ ▄▄ ▄▄ ▄▄ ▄▄ ▄▄ ▄▄ ▄▄ ── ── ── ── ──
── ── ── ── ▄▀ ▒▒ ▒▒ ▒▒ ▒▒ ▒▒ ▒▒ ▒▒ ▒▒ ▀▄ ── ── ── ──
── ── ── ▐▌ ▒▒ ██ ██ ▒▒ ▒▒ ▒▒ ▒▒ ██ ██ ▒▒ ▐▌ ── ── ──
── ── ── ▐▌ ▒▒ ██ ██ ▒▒ ▒▒ ▒▒ ▒▒ ██ ██ ▒▒ ▐▌ ── ── ──
▐▌ ▀▄ ── ▐▌ ▒▒ ▒▒ ▒▒ ▒▒ ▒▒ ▒▒ ▒▒ ▒▒ ▒▒ ▒▒ ▐▌ ── ▄▀ ▐▌
▐▌ ▒▒ ▀▄ ▐▌ ▒▒ ▐▌ ▀▄ ▄▀ ▀▄ ▄▀ ▀▄ ▄▀ ▐▌ ▒▒ ▐▌ ▄▀ ▒▒ ▐▌
▐▌ ▒▒ ▒▒ ▐▌ ▒▒ ▐▌ ▒▒ ▒▒ ▒▒ ▒▒ ▒▒ ▒▒ ▐▌ ▒▒ ▐▌ ▒▒ ▒▒ ▐▌
── ▀▄ ▒▒ ▐▌ ▒▒ ▐▌ ▒▒ ▒▒ ▒▒ ▒▒ ▒▒ ▒▒ ▐▌ ▒▒ ▐▌ ▒▒ ▄▀ ──
── ── ▀▄ ▐▌ ▒▒ ▐▌ ▒▒ ▒▒ ▒▒ ▒▒ ▒▒ ▒▒ ▐▌ ▒▒ ▐▌ ▄▀ ── ──
── ── ── ▐▌ ▒▒ ▐▌ ▄▀ ▀▄ ▄▀ ▀▄ ▄▀ ▀▄ ▐▌ ▒▒ ▐▌ ── ── ──
── ── ── ▐▌ ▒▒ ▒▒ ▒▒ ▒▒ ▒▒ ▒▒ ▒▒ ▒▒ ▒▒ ▒▒ ▐▌ ── ── ──
── ── ── ▐▌ ▒▒ ▒▒ ▒▒ ▒▒ ▒▒ ▒▒ ▒▒ ▒▒ ▒▒ ▒▒ ▐▌ ── ── ──

── ── ── ── ── ── ── ██ ██ ██ ██ ── ██ ██ ██ ──
── ── ── ── ── ██ ██ ▓▓ ▓▓ ▓▓ ██ ██ ░░ ░░ ░░ ██
── ── ── ── ██ ▓▓ ▓▓ ▓▓ ▓▓ ▓▓ ▓▓ ██ ░░ ░░ ░░ ██
── ── ── ██ ▓▓ ▓▓ ▓▓ ██ ██ ██ ██ ██ ██ ░░ ░░ ██
── ── ██ ▓▓ ▓▓ ▓▓ ██ ██ ██ ██ ██ ██ ██ ██ ░░ ██
── ── ██ ▓▓ ██ ██ ░░ ░░ ░░ ░░ ░░ ░░ ██ ██ ██ ──
── ██ ██ ██ ██ ░░ ░░ ░░ ██ ░░ ██ ░░ ██ ▓▓ ▓▓ ██
── ██ ░░ ██ ██ ░░ ░░ ░░ ██ ░░ ██ ░░ ██ ▓▓ ▓▓ ██
██ ░░ ░░ ██ ██ ██ ░░ ░░ ░░ ░░ ░░ ░░ ░░ ██ ▓▓ ██
██ ░░ ░░ ░░ ██ ░░ ░░ ██ ░░ ░░ ░░ ░░ ░░ ██ ▓▓ ██
── ██ ░░ ░░ ░░ ░░ ██ ██ ██ ██ ░░ ░░ ██ ██ ██ ──
── ── ██ ██ ░░ ░░ ░░ ░░ ██ ██ ██ ██ ██ ▓▓ ██ ──
── ── ── ██ ██ ██ ░░ ░░ ░░ ░░ ░░ ██ ▓▓ ▓▓ ██ ──
── ░░ ██ ▓▓ ▓▓ ██ ██ ██ ██ ██ ██ ██ ▓▓ ██ ── ──
── ██ ▓▓ ▓▓ ▓▓ ▓▓ ██ ██ ░░ ░░ ░░ ██ ██ ── ── ──
██ ██ ▓▓ ▓▓ ▓▓ ▓▓ ██ ░░ ░░ ░░ ░░ ░░ ██ ── ── ──
██ ██ ▓▓ ▓▓ ▓▓ ▓▓ ██ ░░ ░░ ░░ ░░ ░░ ██ ── ── ──
██ ██ ██ ▓▓ ▓▓ ▓▓ ▓▓ ██ ░░ ░░ ░░ ██ ██ ██ ██ ──
── ██ ██ ██ ▓▓ ▓▓ ▓▓ ██ ██ ██ ██ ██ ██ ██ ██ ──
── ── ██ ██ ██ ██ ██ ██ ██ ██ ██ ██ ██ ▓▓ ▓▓ ██
── ██ ▓▓ ▓▓ ██ ██ ██ ██ ██ ██ ██ ██ ▓▓ ▓▓ ▓▓ ██
██ ██ ▓▓ ██ ██ ██ ██ ██ ██ ██ ██ ██ ▓▓ ▓▓ ▓▓ ██
██ ▓▓ ▓▓ ██ ██ ██ ██ ██ ██ ██ ██ ██ ▓▓ ▓▓ ▓▓ ██
██ ▓▓ ▓▓ ██ ██ ██ ██ ██ ── ── ── ██ ▓▓ ▓▓ ██ ██
██ ▓▓ ▓▓ ██ ██ ── ── ── ── ── ── ── ██ ██ ██ ──
── ██ ██ ── ── ── ── ── ── ── ── ── ── ── ── ──

── ── ── ██ ██ ── ── ── ── ── ── ██ ██ ── ── ──
── ── ██ ▒▒ ▒▒ ██ ── ── ── ── ██ ▒▒ ▒▒ ██ ── ──
── ── ██ ▒▒ ▒▒ ██ ── ── ── ── ██ ▒▒ ▒▒ ██ ── ──
── ── ██ ▒▒ ▒▒ ██ ── ── ── ── ██ ▒▒ ▒▒ ██ ── ──
── ── ██ ▒▒ ▒▒ ██ ── ── ── ── ██ ▒▒ ▒▒ ██ ── ──
── ── ██ ▒▒ ▒▒ ██ ── ── ── ── ██ ▒▒ ▒▒ ██ ── ──
── ── ██ ▒▒ ▒▒ ▒▒ ██ ██ ██ ██ ▒▒ ▒▒ ▒▒ ██ ── ──
── ██ ▒▒ ▒▒ ▒▒ ▒▒ ▒▒ ▒▒ ▒▒ ▒▒ ▒▒ ▒▒ ▒▒ ▒▒ ██ ──
██ ▒▒ ▒▒ ▒▒ ██ ▒▒ ▒▒ ▒▒ ▒▒ ▒▒ ▒▒ ▒▒ ██ ▒▒ ▒▒ ██
██ ▒▒ ▒▒ ▒▒ ▒▒ ▒▒ ▒▒ ▒▒ ▒▒ ▒▒ ▒▒ ▒▒ ▒▒ ▒▒ ▒▒ ██
██ ▒▒ ▒▒ ▒▒ ▒▒ ▒▒ ██ ▒▒ ██ ▒▒ ██ ▒▒ ▒▒ ▒▒ ▒▒ ██
── ██ ▒▒ ▒▒ ▒▒ ▒▒ ▒▒ ██ ▒▒ ██ ▒▒ ▒▒ ▒▒ ▒▒ ██ ──
── ── ██ ▒▒ ▒▒ ▒▒ ▒▒ ▒▒ ▒▒ ▒▒ ▒▒ ▒▒ ▒▒ ██ ── ──
── ── ██ ▒▒ ▒▒ ▒▒ ▒▒ ▒▒ ▒▒ ▒▒ ▒▒ ▒▒ ▒▒ ██ ── ──
── ── ██ ▒▒ ██ ▒▒ ██ ▒▒ ▒▒ ▒▒ ██ ▒▒ ██ ██ ── ──
── ── ██ ▒▒ ██ ▒▒ ██ ▒▒ ▒▒ ▒▒ ██ ▒▒ ██ ██ ── ──
── ██ ██ ▒▒ ██ ▒▒ ██ ▒▒ ▒▒ ▒▒ ██ ▒▒ ██ ██ ── ──
██ ▒▒ ██ ▒▒ ▒▒ ██ ▒▒ ▒▒ ▒▒ ▒▒ ▒▒ ██ ▒▒ ██ ── ──
██ ▒▒ ██ ▒▒ ▒▒ ▒▒ ▒▒ ▒▒ ▒▒ ▒▒ ▒▒ ▒▒ ▒▒ ██ ── ──
── ██ ██ ▒▒ ▒▒ ▒▒ ▒▒ ▒▒ ▒▒ ▒▒ ▒▒ ▒▒ ▒▒ ██ ── ──
── ── ── ██ ██ ██ ██ ██ ██ ██ ██ ██ ██ ── ── ──
── ── ── ── ██ ▒▒ ██ ── ── ── ██ ▒▒ ██ ── ── ──
── ── ── ── ── ██ ── ── ── ── ── ██ ── ── ── ──

── ── ── ██ ██ ██ ██ ── ── ── ██ ██ ██ ██ ── ── ──
── ── ██ ▒▒ ▒▒ ▓▓ ▓▓ ██ ── ██ ▒▒ ▒▒ ▓▓ ▓▓ ██ ── ──
── ██ ▒▒ ▒▒ ▒▒ ▒▒ ▒▒ ▓▓ ██ ▒▒ ▒▒ ▒▒ ▒▒ ▒▒ ▓▓ ██ ──
██ ▒▒ ▒▒ ▒▒ ▒▒ ── ── ▒▒ ▒▒ ▒▒ ▒▒ ▒▒ ▒▒ ▒▒ ▒▒ ▓▓ ██
██ ▒▒ ▒▒ ▒▒ ▒▒ ── ── ▒▒ ▒▒ ▒▒ ▒▒ ▒▒ ▒▒ ▒▒ ▒▒ ▓▓ ██
██ ▒▒ ▒▒ ── ── ▒▒ ▒▒ ▒▒ ▒▒ ▒▒ ▒▒ ▒▒ ▒▒ ▒▒ ▒▒ ▓▓ ██
██ ▒▒ ▒▒ ── ── ▒▒ ▒▒ ▒▒ ▒▒ ▒▒ ▒▒ ▒▒ ▒▒ ▒▒ ▒▒ ▒▒ ██
── ██ ▒▒ ▒▒ ▒▒ ▒▒ ▒▒ ▒▒ ▒▒ ▒▒ ▒▒ ▒▒ ▒▒ ▒▒ ▒▒ ██ ──
── ── ██ ▒▒ ▒▒ ▒▒ ▒▒ ▒▒ ▒▒ ▒▒ ▒▒ ▒▒ ▒▒ ▒▒ ██ ── ──
── ── ── ██ ▒▒ ▒▒ ▒▒ ▒▒ ▒▒ ▒▒ ▒▒ ▒▒ ▒▒ ██ ── ── ──
── ── ── ── ██ ▒▒ ▒▒ ▒▒ ▒▒ ▒▒ ▒▒ ▒▒ ██ ── ── ── ──
── ── ── ── ── ██ ▒▒ ▒▒ ▒▒ ▒▒ ▒▒ ██ ── ── ── ── ──
── ── ── ── ── ── ██ ▒▒ ▒▒ ▒▒ ██ ── ── ── ── ── ──
── ── ── ── ── ── ── ██ ▒▒ ██ ── ── ── ── ── ── ──
── ── ── ── ── ── ── ── ██ ── ── ── ── ── ── ── ──

▒▒ ▒▒ ▒▒ ▒▒ ▒▒ ▒▒ ▒▒ ▒▒
▒▒ ▒▒ ██ ▒▒ ▒▒ ██ ▒▒ ▒▒
▒▒ ██ ██ ██ ██ ██ ██ ▒▒
▒▒ ██ ░░ ▀▄ ▀▄ ░░ ██ ▒▒
▒▒ ██ ▒▒ ░░ ░░ ▒▒ ██ ▒▒
▒▒ ▒▒ ██ ██ ██ ██ ▒▒ ▒▒
▒▒ ▄▀ ██ ░░ ░░ ██ ▀▄ ▒▒
▒▒ ▒▒ ██ ██ ██ ██ ▒▒ ▒▒
▓▓ ▓▓ ▀▄ ▓▓ ▓▓ ▀▄ ▓▓ ▓▓
▓▓ ▓▓ ░░ ▓▓ ▓▓ ░░ ▓▓ ▓▓
▓▓ ▓▓ ░░ ░░ ▓▓ ░░ ░░ ▓▓
▓▓ ▓▓ ▓▓ ░░ ▓▓ ▓▓ ░░ ▓▓
▓▓ ▓▓ ░░ ░░ ▓▓ ░░ ░░ ▓▓
▓▓ ▓▓ ░░ ▓▓ ▓▓ ░░ ▓▓ ▓▓
▓▓ ▓▓ ░░ ░░ ▓▓ ░░ ░░ ▓▓
▓▓ ▓▓ ▓▓ ░░ ▓▓ ▓▓ ░░ ▓▓
▓▓ ▓▓ ▓▓ ▓▓ ▓▓ ▓▓ ▓▓ ▓▓

──────────────████──████────────────
────────────██░░▒▒██░░▒▒██──────────
──────────██░░────────▒▒▓▓██────────
──────────██──██──██────▓▓████████──
──────────██──██──██──────██░░░░▒▒██
──────██████──────────────████▒▒▓▓██
────██░░░░░░██──▓▓──────▓▓░░░░██████
──██░░────░░░░▓▓░░▓▓▓▓▓▓░░──░░▒▒██░░
──████──██░░░░░░▒▒░░──────░░░░▒▒██▒▒
██░░░░░░░░░░░░░░▒▒▒▒────────▒▒▓▓██▓▓
██░░░░░░░░░░░░▒▒▒▒▓▓────────▒▒▓▓████
██▒▒░░░░░░▒▒▒▒▒▒▓▓██░░────░░▓▓▓▓████
██▒▒▒▒▒▒▒▒▒▒▒▒▓▓▓▓████░░░░▓▓▓▓██▒▒██
──██▒▒▒▒▒▒▓▓▓▓▓▓▓▓██──░░▓▓▓▓██████──
────████▓▓▓▓▓▓▓▓██──░░▒▒▒▒▓▓██▒▒██──
────────████████████▒▒▒▒▒▒▒▒▓▓██────
────────██▒▒──▒▒██░░░░▒▒──────██────
────████▒▒▒▒▒▒████░░░░██──────██────
██████──██████──██░░░░████────██────
██░░▒▒██──────████░░░░░░████──██────
██──▓▓▒▒████████▒▒░░░░██░░████──────
██────▓▓▒▒░░░░██▒▒░░────░░██████────
──██░░────▒▒▒▒██▓▓▒▒░░░░░░██████────
──██░░░░──────░░██▓▓▒▒░░████░░██────
────████████████░░██████▒▒████──────
────██▓▓▒▒░░░░██▒▒▒▒██████──────────
────██▓▓▒▒░░░░██████░░██████────────
──██▓▓▓▓▓▓▒▒──░░██▓▓▒▒░░░░──██──────
──██▓▓▓▓▒▒░░░░░░██▓▓▓▓▒▒▒▒░░██──────
──████████████████████████████──────

_____________________________________________▄▄█▀
_________________________________________▄▄█▓█
______________________________▓▓▓___▄▄█▓▓▓█▄▄██████████▄
___________________________▓▓░░░▓▓█▓▓▓▓▓██▓▓▓▓▓▓▓▓▓▓▓▓███▄▄
_________________________▓▓░░░░░░▓▓▓▓▓▓█▓▓▓▓▓▓▓▓▓▓▓▓▓▓▓▓▓▓██▄
________________________▓░░░░░░░░▓▓▓▓▓▓▓▓▓▓▓▓▓▓▓▓▓▓▓▓▓▓▓▓▓▓▓▓█▄
_______________________▓░░░░░░░░░▓▓▓▓▓▓▓▓▓▓▓▓▓▓▓▓▒▒▒▒▒▒▒▒▒▒▓▓▓█▓▓
____________________▄█▓░░░░░░░░░░▓▓▓▓▓▓▓▓▓▓▓▓▓▓▓▓▓▓▒▒▒▒▒▒▒▒▒▓▓░░▓▄
_________________▄█▓▓░░░▓░░░░░░░▓▓▓▓▓▓▓▒▒▒▒▒▒▒▒▒▒▒▒▒▒▒▒▒▒▒▓▓░░░▓▓█
______________▄█▓▓▓▓░░▓░░░░░░░░▓▓▓▓▓▒▒▒▒▒▒▒▒▒▒▒▒▒▒▒▒▒▒▒▓▓░▓░░░▓▒▒█▄
____________▄█▓▓▓▓▓░░▓░░░░░░░░░▓▓▒▒▒▒▒▒▒▒▒▒█████████▒▓▓░░░▓░░▓▒▒▒▒█▄
__________▄█▓▓▓▓▓▓░░▓░░░░░░░░░▓████████████▓▓▓▓▓▓▓▓█▓▓░░░░▓▓▓▒▒▒▒▒▒█
________▄█▓▓▓▓▓▓▓░░▓░░░░░░░░░░░░░░░░░░░░░░███▓▓▓▓▓▓██▓░░░░░▓▒▒▒▒▒▒▒█▌
_______█▓▓▓▓▓▓▓▓░░▓░░░░░░░░░░░▌░░░░░░░░░░░░░░██▓▓▓▓▓▓██░░░▓▒▒▒▒▒▒▒▒▒█
______█▓▓▓▓▓▓▒▓░░░▓░░░░░░░░▄░░▌░░░░░░░░░░░░░░░▓█▓▓▓▓▓▓▓█░▓██▒▒▒▒▒▒▒▒█
_____█▓▓▓▓▓▓▒▒▓░░░▓░░░░░░░░▐░░▀▄▄░░░░░░░░░░░░▓░░█▓▓▓▓▓▓█▓▒▒▒███▒▒▒▒▒█
____█▓▓▓▓▓▓▒▒▒▓░░░▓░░░░░░▄░░▀▄▄▌_▀█▄░░░░░░░░░░▓█▓▓▓▓▓▓▓█▒▒▒▓▓▓▓██▒▒▒█
__██▓▓▓▒▓▒▒▒▒▓░░░░░░░░░░░▀▄▄▄▌______▀█▄░░░░░░██▓▓▓▓▓▓▓█▓▒▓▓▓▓▓▓▓▓█▒▒█▌
_██▓▓▓▒▒▒▒▒▒▒▓░░░░░░░░░░░░░░▐________▓▓█▄░░░░█▓▓▓▓▓▓▓█░░▓▓▓▓▓▓▓▓▓▓█▒▒█
_██▓▓▓▒▒▒▒▒▒▓▓░░░░░░░░░░░░░░▌_______▓▓▓██▄░░█▓▓▓▓▓███░░░▓▓▓▓▓▓▓▓▓▓▓█▒█
_█▒█▓▓▒▒▒▒▒▒▓▓░░░░░░░░░░░░░░▌______▓▓▓███_▀▄░█▓▓▓▓█░░░░░▓▓▓▓▓▓▓▓▓▓▓▒██
█▒▒█▓▓▒▒▒▒▒▓▓▓░░░░░░░░░░░░▄▀▌_____▓▓████▌__▀▄░███▓▓██░░░▓▓▓▓▓▒▒▒▓▓▒▒▒█
█▒▒▒█▓▒▒▒▒▒▓▓░▓░░░░░░░░░░▀░▄▀▄____▓▓████▄___▀▄░▄▓██░░░░░▓▄▓▒▒▒▒▒▓▒▒▒▒█
█▒▒▒▒█▒▒▒▒▒▓▓░░░░░░░░░░░░░▀░▄▀▄___▓▓███▀▀█▄▄█▀░░█▄▄██▀█▀▒▄▒▒▒▒▒▒▒▒▒▒█
_█▓▒▒▒▒█▒▒▒▓▓▓░░░░░░░░░░░░░░▀░░░░░▓▓▓██▄▄███░░░░░▌▓█▌_▐▀▀▒▒▒▒▒▒▒▒▒▒▒█
_█▓▒▒▒▒▒█▒▒▓▓▓░░░░░░░░░░░░░░░░░░░░░░░░░░░██░░░░░▐_▓██▄▓▀▀████▒▒▒▒▒▒█
_█▓▓▒▒▒▒▒█▓▓▓▓░░░░░░░░░░░░░░░░░░░░░░░░░░░░░░░░░░▐▓██_█▓▒▒▒▒▒▒███▀▀▀
_█▓▓▓▒▒▒▒▒███▓░░░░░░░░░░░░░░░░░░░░░░░░░░░░░░░░░░▐▓██▄▓▒▒▒▒▒▒█
_█▓▓▓▓▒▒▒▒▒▒▒████░░░░░░░░░░░░░░░░░░░░░░░░░░░░░░░░▓▓▓▓▒▒▒▒▓▓█
_█▒▓▓▓▓▓▓▒▒▒▒▒▒▒▒████░░░░░░░░░░░░░░░░░░░░░░░░░░░░░░░░▓▒▒▓▓█
__█▒▓▓▓▓▓▓▓▓▒▒▒▒▒▒▒▒▒██░░░░░░░░░░░░░░░░░░░▓░░░░░▓░░░░▓▒▓▓▓█
___█▒▒▓▓▓▓▓▓▓▓▓▓▓▒▒▒▒▒▒██░░░░░░░░░░░░░░░░░░▓░░░░░░░░▓▒▒▓▓▓█▌
___█▒▒▒▒▓▓▓▓▓▓▓▓▓▓▓▓▓▒▒▒▒██░░░░░░░░░░░░░░░░░▓░░░░░▓▓▒▒▓▓▒▓▓█
____█▒▒▒▒▒▒▓▓▓▓▓▓▓▓▓▓▓▓▓▒▒▒█▓▓▓▓▓░░░░░░░░░░░▓▓▓▓▓▓_█▒▒▒▒▒▓▓▓█
_____█▒▒▒▒▒▒▒▒▒▓▓▓▓▒▒▓▓▓▓▓▒▒█______▓▓▓▓▓▓▓▓▓▓__________▀█▒▒▒▒▓▓▓█
______█▒▒▒▒▒▒▒▒▒▒▒▒▒▓▓▓▓▓▓▓▓▒█______________________________▀█▒▒▒▓▓▓█
_______▀█▒▒▒▒▒▒▒▒▒▓▓▓▓▓▓▓▓▓▓▓▓█_______________________________█▒▒▒▓▓█
_________▀▀█▒▒▒▒▒▒▒▒▒▒▒▒▒▓▓▓▓▓▓█_______________________________█▒▒▓▓█
_____________▀█▒▒▒▒▒▒▒▒▒▒▒▒▒▓▓▓▓▓█_____________________________█▒▒▓█▀
_______________▀▀▀█▒▒▒▒▒▒▒▒▒▒▒▓▓▓▓█____________________________█▒▓█▀
____________________▀▀▀████▒▒▒▒▒▒▒▓█__________________________▄██▀▀
________________________█▓▓▓██████▒▒█
_________________________█▓▓▓▓▓▒▒▒███
_________________________█▓▓▓▓▓▒▒▒▒▒█
_________________________█▓▓▓▒▓▒▒▒▒█
________________________█▓▓▓▒▒▒▒▒▒█
_______________________█▓▓▒▒▒▒▒▒█▀
____________________▄█▓▓▒▒▒▒▒█▀
_______________▄▄▄█▓▓▒▒▒██▀▀
____________________▀▀▀▀▀

You may also like those text tool, content, tips for facebook, twitter, tumblr...social networking